---
Your loved ones cremated remains can be made available for collection by you (or your nominated person) from our location as soon as 72 hours after the cremation has occurred. The cremated remains will be accompanied with a cremation certificate.
On special request, the cremated remains can be made available after 24 hours (expedited service fee may be applied).
If you are purchasing an urn with custom engraving, please allow additional time for delivery from our supplier. You may take your loved ones cremated remains home until the custom-made urn arrives. The cremated remains will be placed in a temporary polymer urn immediately after the cremation. Upon arrival you make an appointment with us to transfer your loved one in their new urn. You may also conduct the transfer yourself.
We understand that you may not be available to collect the cremated remains as you originally planned from our location. Included in our commitment to exceptional service if not included at the time you made arrangements your options for an additional fee are as follows:
If you prefer the human touch, we can deliver your loved ones cremated remains to your home or business. We will require a signature from you not a designee upon delivery. If you prefer shipping, then the United States Postal Service® is working to make shipping loved ones easier. USPS is the only shipping company that ships cremated remains and has instituted some rules to make sure loved ones are safely delivered.
All remains, human or pet, must be shipped via Priority Mail Express®.
Priority Mail Express® is overnight shipping for delivery by 10:30 AM with available delivery on Sunday and Holidays.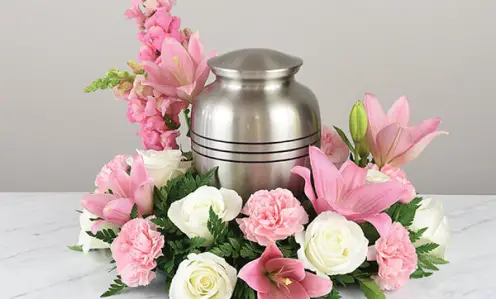 ---
If you require the cremated remains urgently, we will discuss options with you to make the best decision for you. Expedited Delivery service may have an additional fee.
At the time of arrangements, we will discuss how you wish to receive the cremated remains back. If you do not wish to receive them back, we will ask who designated person on your behalf will be to collect them. If you do not have a designee, we will apply the USPS fee to your contract for mailing. We will ask for an address to which to mail them in the event they are not collected they will be automatically mailed. In the event, a decision is not made for appropriate reasons, we are happy to look after them up to 10 days after the cremation for you to decide what is best for you. After 10 days they will be mailed to the address given at the arrangement conference.
*Lay To Rest Services/ Cremation & Funeral Home and its affiliates, employees and or its assignees will not be responsible for the delayed delivery, missing or damaged items caused by using any delivery service.
---